"Giving Back to a University That Gave So Much to Me"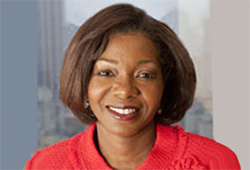 If you ask Patricia Zollar why she's planned a $1 million cash gift for North Carolina A&T, she will tell you that it is about being responsible and her commitment the university and its mission.
"I was a full scholarship student," she said, "I felt it was my responsibility to give back to A&T."
An alumnae and a member of the Board of Trustees, Zollar has opted to give the cash gift via a life insurance policy. Her planned gift will create a new endowment for professorships in the School of Business and Economics, the school where she earned her bachelor of science with highest distinction.
"(This gift is) giving back to a University that gave so much to me," Zollar said.
"I wanted to provide a gift equivalent to my capacity."
Zollar is a managing director of Neuberger Berman, an independent asset management firm with approximately $170 billion of assets under management, where she is a principal of the NB Alternative Funds of Funds team.
Before joining private equity, Zollar co-founded and co-headed the Lehman Brothers Partnership Solutions Group (PSG), a Wall Street business focused on developing strategic opportunities with women- and minority-owned financial services firms. Prior to rejoining Lehman Brothers in 2004, she spent 8 years in asset management. Most of that time was with Goldman Sachs, where she was a vice president of institutional marketing.
It was Zollar's overall experience as a student at N.C. A&T influenced her decision to plan a gift.
"I wanted to contribute to the success of A&T long after I'm gone," she said.
"You think of A&T like your child, you want to provide for it when you are not around. I want the University to live on in perpetuity."
After earning her bachelor's, Zollar earned a master's of business administration from Harvard Business School. She is a Certified Public Accountant and a member of the Executive Leadership Council.