A Heart of Service is Nourished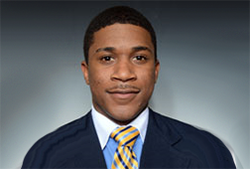 Please consider an estate gift to North Carolina A&T State University. Your estate gift will support our endowment fund and help maintain our tradition of excellence. An estate gift to N.C. A&T is an investment in the advancement of our mission of educating and positively impacting and transforming the lives of young people. The following letter from Jacob Smith is an illustration of how scholarship dollars make an impact on campus and the community.
One Student's Story
Dear friend of North Carolina A&T,
My name is Jacob Smith, a sophomore supply chain management student here at North Carolina Agricultural and Technical State University. During my brief academic career here, I have had the opportunity of serving on several different organizational executive boards. Recently, I was awarded a significant scholarship from the alumni and friends community, became a Wal-Mart Scholar and secured a space planning supply chain internship at Sam's Club headquarters for the upcoming summer.
Through the many lessons I have learned while attending North Carolina A&T, the importance of giving back is one that has stirred my spirit the most. The faculty and administration have invested endless amounts of time and resources into ensuring students like me succeed. I am applying that same principle of generosity into the community through facilitating a mentoring program for young boys at a local elementary school, along with other on-campus male initiatives. The school mentoring program, Boys of Purpose (B.O.P), is currently working with more than 60 students to provide inspiration and motivation with elementary students in grades second through fifth. Your support through scholarship funds has given me the flexibility of being able to take on these programs while not having to work a part-time job.
Your gifts, donations, money and your Aggie pride are investments in the lives of students like me and it matters. Thank you for nourishing my heart of service. You help to foster and cultivate the culture of service that we have here at N.C. A&T.
I am truly thankful for your generous contributions. Not only to me, but to the lives of those I touch through my small acts of service. Without you, my potential would not see itself manifested while here in school. We here at North Carolina A&T thank you for your support through monetary contributions and estate gift considerations, as our future leaders and world-changers continue to strive toward excellence.
In the spirit of giving back,
Jacob T. Smith
Sophomore, Supply Chain Management Major